Angle template tool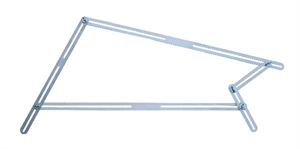 The angle template tool is fully suited to transfer polygonal shape contours to parts. Working with an angle template tool is much easier than using a measuring tape or ruler giving rise to greater precision than paper templates. Several aluminium sliders can be connected to obtain various straight lines. The slidiers can be placed on top of one another to perform intermediate dimensions as required.
Allows polygonal contours to be transferred to various parts
Easy to measure compared to a measuring tape or ruler
More accurate than a paper template
Almost any shape can be reproduced thanks to the different aluminium sliders
Stair drawing template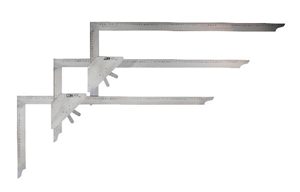 Ideal for drawing stringers on turning stairsThe clamping bolts allow the templates to be connected to each other in a practical and efficient way. The height and width of the steps can be adjusted individually on each template.
Templates with millimetre graduation on both sides. The locks and templates are made of high quality stainless steel.
Made of stainless steel
Ideal for drawing stringers on turning stairs
Templates firmly fixed together with clamping bolts
Height and width of steps can be adjusted at will
| Length | Code |
| --- | --- |
| | MESUT100 |
| | MESUT110 |