Sharpening Systems TORMEK
Tormek T-8 Water Cooled Sharpening System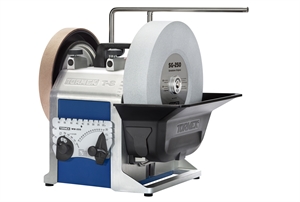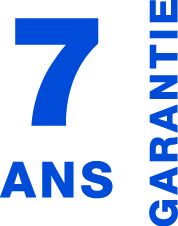 TORMEK T-8 maximises the precision thanks to the revolutionary fully cast housing which guarantees minimal play for the Universal support. This gives you the best conditions possible to succeed with your sharpening. Tormek's unique drive system is efficient and manages to hold a constant speed, even under full load. The Tormek Original Grindstone sharpens all qualities of steel, including HSS. The machine features a number of elaborated details, like instant stone locking with EzyLock, water trough with lift and a removable magnet scraper for efficient cleansing.
Dimensions:
Width 270 mm (10 5/8"), Depth 270 mm (10 5/8"), Height 330 mm (12")
Weight:
Shipping weight 18.2 kg (40.1 lbs), Machine only 14.8 kg (32.6 lbs)
Grindstone:
Tormek Original Grindstone, Aluminium oxide, 250×50 mm (10"×2") 90 rpm, torque 14.7 Nm
Leather Honing Wheel:
220×31 mm (8 5/8"×1¼")
Main Shaft:
Stainless steel main shaft, stone hardware and EzyLock.
Housing:
Zinc cast top and frame. Sides in ABS plastic.
Motor:
Industrial single phase, 200 W (input) 230 V, 50 Hz or 115 V, 60 Hz. Continuous duty, Maintenance free. Silent running, 54 dB. 25,000 hour life

Tormek T-4 Water Cooled Sharpening System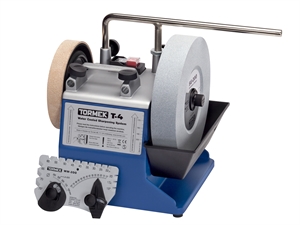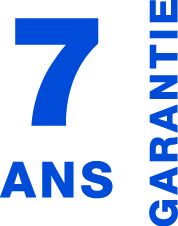 TORMEK T-4 is an enhancement of the T-3 model taking the precision and stability to a completely new level. Vital functions like the motor and the main shaft are mounted in the zinc cast top which includes the integrated sleeves for the Universal Support. This advanced design ensures an unbeatable precision for the Universal Support, which is the foundation of the Tormek jig system.
You get a high quality machine ideal for home and hobby work which can sharpen all the common edge tools. Delivered with the Stone Grader SP-650, AngleMaster WM-200, Honing compound, DVD and the comprehensive Tormek Handbook on sharpening. Configure the T-4 with your choice of jigs according to the tools that you are choosing to sharpen. The jigs are sold separately.

Dimensions:
Width 230 mm (9 1/16"), Depth 200 mm (7 7/8"), Height 260 mm (10¼")
Weight:
Shipping weight 9.8 kg, Machine only 8.0 kg
Grindstone:
Tormek Original Grindstone, Aluminium oxide, 200×40 mm (8"×1 5/8") 120 rpm, torque 8.4 Nm
Leather Honing Wheel:
145×26 mm (5¾"×1")
Main Shaft:
Stainless steel main shaft and stone hardware. EzyLock in composite.
Housing:
Zinc cast top, Impact resistant ABS plastic

Motor:
Industrial single phase, 120 W (input)
230 V, 50 Hz or 115 V, 60 Hz. Duty 30 min/hour, Maintenance free.
Silent running, 54 dB. 10,000 hour life
Grindstones
Information
Code
Tormek Original Grindstone
The Tormek Original Grindstone has evolved over the years to offer the best combination of efficient steel removal, smooth surface finish and a long life. This stone efficiently cuts all types of tools and steel qualities including HSS. Ø200 mm
TORMSG200
Tormek Original Grindstone
The Tormek Original Grindstone has evolved over the years to offer the best combination of efficient steel removal, smooth surface finish and a long life. This stone efficiently cuts all types of tools and steel qualities including HSS. Ø250 mm
TORMSG250
Blackstone Silicon SB-250
Tormek Blackstone delivers faster steel removal on HSS and other exotic alloys than Tormek Original Grindstone. Suitable for tools with large bevel area. It can also touch up carbide. 220 grit.
TORMSB250
Japanese waterstone
This stone provides an extra fine surface finish on hand tools where a minimum of steel removal is needed. Ideal for carving tools. 4000 grit. Available in two sizes, 250 mm (for T-8, T-7 and 2000 models) and 200 mm (for T-4, T-3 and 1200 models). Since it is made to create the finest surface, it has a limited steel removal capacity and cannot be used for shaping a tool.
TORMSJ200
Japanese waterstone
This stone provides an extra fine surface finish on hand tools where a minimum of steel removal is needed. Ideal for carving tools. 4000 grit. Available in two sizes, 250 mm (for T-8, T-7 and 2000 models) and 200 mm (for T-4, T-3 and 1200 models). Since it is made to create the finest surface, it has a limited steel removal capacity and cannot be used for shaping a tool.
TORMSJ250
Diamond Wheel Coarse
TORMDC250
Diamond Wheel Fine
TORMDF250
Diamond Wheel Extra Fine
TORMDE250
Spare parts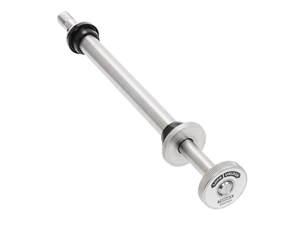 Plan
Information
Code
Stainless Steel Shaft with EzyLock for Model T-7 and 2000
The EzyLock, which is both a nut and a washer, instantly secures your grindstone without tools. The shaft, washer and EzyLock washer nut are all made of stainless steel.
TORMMSK250
Advanced Water Trough for Model T-7 and 2000
With enlarged standard lip for maximum water collection. Also includes an embedded magnet to collect steel particles and a removable water chute for long tools.
TORMAWT250
Universal support
The versatile Tormek Universal Support is the basis of the Tormek system. It is made of 12 mm (approx. 1/2") round steel and has a double mounting for maximum stability. The Universal Support incorporates a micro adjust for exact and fast fine setting. For TORMEK T8
TORMUS105
Stainless Steel Shaft with EzyLock for Model T-4, T-3 and 1200
The EzyLock, which is both a nut and a washer, instantly secures your grindstone without tools.
TORMMSK200
Universal support
The versatile Tormek Universal Support is the basis of the Tormek system. It is made of 12 mm (approx. 1/2") round steel and has a double mounting for maximum stability. The Universal Support incorporates a micro adjust for exact and fast fine setting. For TORMEK T4
TORMUS103
Leather Honing Wheel
For Tormek T-7 and 2000. Gently removes the burr, which develops during grinding. Used with Tormek Honing Compound PA-70, the edge is polished to a razor sharpness.
TORMLA220
Leather Honing Wheel
For Tormek T-4, T-3 and 1200. Gently removes the burr, which develops during grinding. Used with Tormek Honing Compound PA-70, the edge is polished to a razor sharpness.
TORMLA145
Set of standard spare discs.
One with a 3 mm (⅛") radius and one with a 60º tip. For Profiled Leather Honing Wheel LA-120
TORMLA122
Set of optional, narrow discs.
One with a 2 mm (3/32") radius and one with a 45º tip. (for LA-120).
TORMLA124
Horizontal Base
With the Horizontal Base you can move the Universal Support from vertical mount (for grinding towards the edge) to horizontal mount for grinding away from edge.
TORMXB100
Additional kit
Additional kit
TORMSVD005
Exchange diamond bit
For Tormek Truing Tool ADV-50D and TT-50.
TORMADVD
Set of extra Profile Labels
The PL-01 set contains 9 extra labels so you can record your favourite profiles on all your bowl gouges, spindle gouges and skews.
TORMPL01
Sharpening station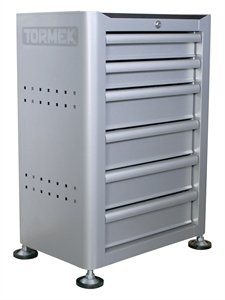 Plan
Information
Code
Sharpening Station
Top quality sharpening cabinet with purposed designed drawers to fit the Tormek accessory kits. Convenient storage for all the jigs and accessories needed for sharpening all kinds of edge tools. Sturdy steel design with scratch resistant metallic coating, rounded corners and Tormek logo. Fits easily into your workshop and you will be able to adjust to your ideal working height. Height 750-830 mm (29½"–32½"), width 578 mm (22¾"), depth 390 mm (153/8").
TORMTS740