03.53.0010-11-12 - Hooks for display cabinets
(CMT03.53.0010-11-12-13-14)
L
Code
50
Haken OMM & OMS
CMT03530014-X12
50
Mini hooks DSS
CMT03530012-X24
150
Short Hooks QLH
CMT03530011-X24
200
Long Hooks DSS
CMT03530013-X24
Related products
Wire counter display for saw blades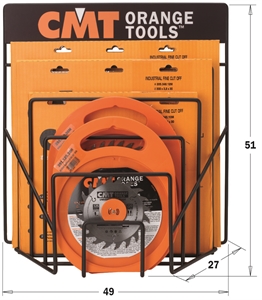 We also offer a practical wire counter display for saw blades up to Ø350mm.
Dimensions in cm.
Code
Mini wire counter display only
CMT03000030
Related products
Display cabinets for router bits, cutter heads and Forstner bits
Beautiful well-organized display cabinets of router bits in your shop is the best way to encourage customers to buy. CMT has produced them to best show off its wide selection of high quality bright orange bits. Made with a sturdy hardwood frame and three glass panels, these are the ideal counter-top display.
Display cabinet 03.00.0002 includes 42 short hooks.
Dimensions in cm.
S
Code
Display cabinet (empty) 70X27X89 cm
CMT03000002
6
Display cabinet with 76 HW router bits, 8 spare parts (2 pieces each) with Hooks
CMT70008400
8
Display cabinet with 76 HW router bits, 8 spare parts (2 pieces each) with Hooks
CMT90008400
Related products