Universal boring template
Universal boring template
Universal boring jig
This universal boring jig has been designed for precise and productive manual dowelling of furniture elements and guarantees high precision work and productivity. The holes have been made with a distance of 32mm between one another, in compliance with the European regulations for doweling machine production. Also, the dowel jig fits CMT Ø8mm shank HW drill bits, clamped into a special boring adaptor.
- For edge dowelling and jointing.
- Precise holes.
- Detachable end stops.
- Ergonomic manual tighteners.
- Precise and flat duralumin profile.
TECHNICAL FEATURES :

| | |
| --- | --- |
| Max board width in one tightening : | 656mm. |
| Max. board width : | No limits. |
| For dowels : | Ø8mm. |
| For through holes : | Ø7mm. |
| Hole distance : | 32mm. |
| Number of Ø18mm holes : | 2x20mm |
| Board thickness : | 16~40mm |
| Facet (elements lap) : | 0,8mm. |
Code
Universal boring jig (656mm in one tightening)
CMT656
Related products
CMT334 - Spare parts for BLUM, SALICE, HÄFELE and HETTICH hinge boring head
D
l
S
Rotation
Code
35
38.5
10x20
DROITE
Hinge boring bit
CMT39335011
8
38.5
10X18
GAUCHE
Blind hole drill bit
CMT39308012
Related products
4-piece bench block set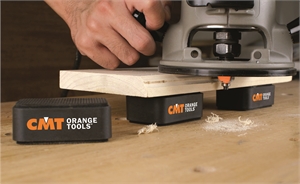 These blocks are great for holding your workpiece without any clamps. Their anti-slip surface grip both your bench top and the underside of your workpiece. Raise your work above the bench and benefit from plenty of clearance for your router bits, cutters, etc.
Code
DIM = 75x50x25(h)
CMTBBS-001