Laminate/veneered cutter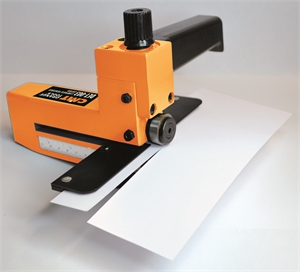 A very useful hand tool for clean, splinter-free cuts on laminates and veneered with no waste. Place your material into the fence provided and have the cutter run along the edge of the panel. The two opposing steel-made circular cutting blades mounted on roller bearings will trace the cutting line. Use the micrometer knob on the top of the tool to set the cutting thickness, or adjust the strip width by using the metric/inch scale provided. Loosen the lock knob on the scale, move the metal bracket which holds the fence and tighten the lock knob again on the desired cutting width.
TECHNICAL FEATURES :
- Cutting width: 12~110mm (15/32" ~ 4-21/64").
- Cutting depth: 0~2mm (0 ~ 5/64").
- Weight: 1.2 kg.
Edge banding iron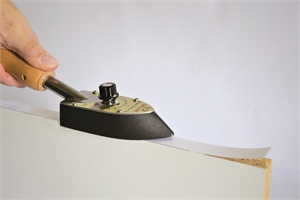 Apply pre-glued edge banding easily and accurately. The iron non-stick surface allows smooth and easy application. The thermostatically controlled short preheat time gets you working quicker. Includes heat resistant metal base to place iron when not using it.
- Includes thermostatic heat control.
- Non-stick coating.
- Specially shaped shoe with rounded edges.
- Metal stand.
- 154cm (5-1/2') power cord, 230V.

TECHNICAL FEATURES :
- Voltage: 230V.
- Electric current: 2.5A.
- Low temperature: 70° ±10° C.
- High temperature: 150° ±10° C.
Edge banding end trimmer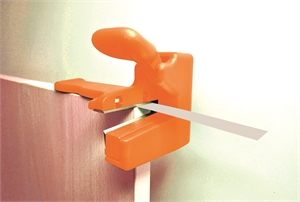 An indispensable tool for easy and safe end trimming after edge banding. Position the tool on the banding, press down on the handle to operate the blade in a shearing action. The cutting knives are interchangeable, so when the cutting knife becomes dull, you can simply replace it with the anvil knife for a double lifetime. For cutting banding up to 0,5mm (1/64") thick with a maximum cutting width of 54mm (2-1/8"). This tool can also be paired up with our double edge trimmer DET-001. We recommend using our edge banding end trimmer DET-002 before using our double-edge trimmer DET-001.
Double-edge trimmer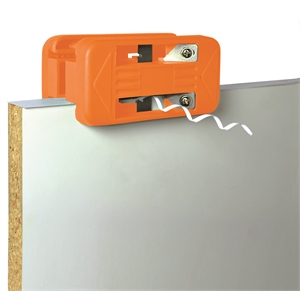 Attach this trimmer to your workpiece, press both ends against the board for a cutting range between 13mm (1/2") and 25mm (1"), move the trimmer in the correct direction indicated by the arrow. This will cut on both sides easily. The first cutter will cut straight, the second one can be adjusted for a tapering cut. Both cutters are made from high-quality hardened steel and can be easily replaced when worn out.